The Ad Block Detection Add-On allows the AdSanity administrator to give feedback to visitors of their AdSanity-powered websites who are running an ad blocker on their browser.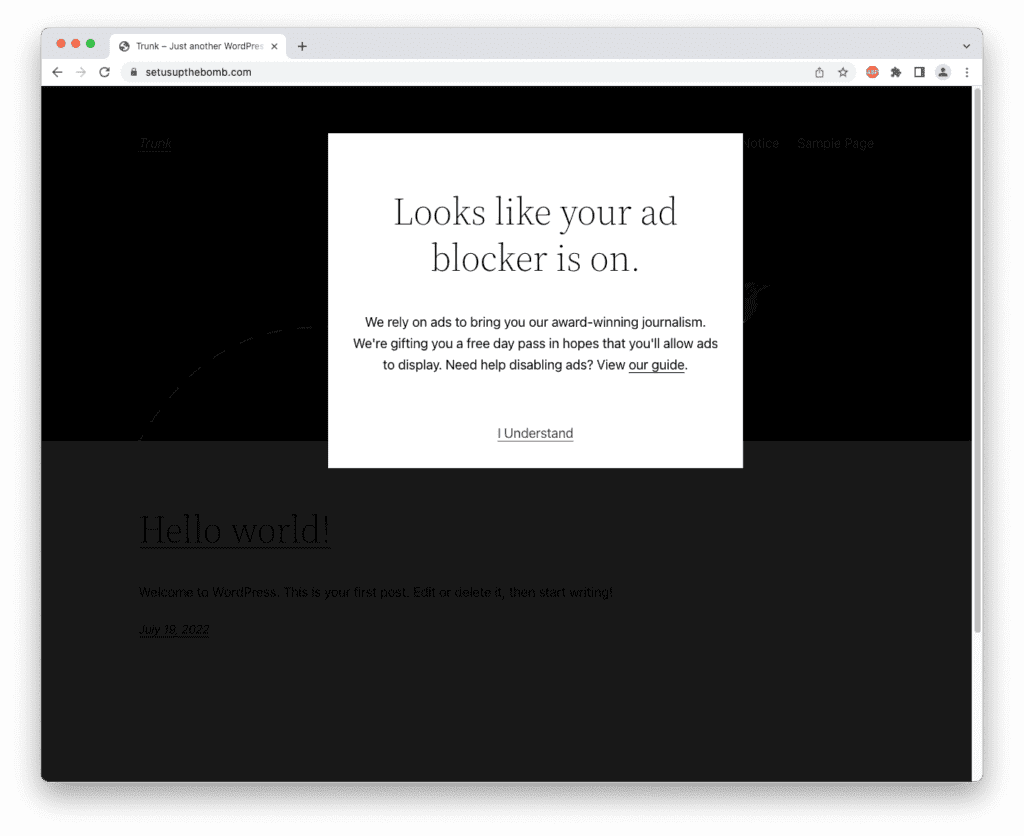 If you're experiencing any issues with this add-on, be sure to update to the latest version of this add-on as well as AdSanity core. If you don't see any updates in your WordPress dashboard, you can always download the latest from our Purchase History page.
Add-On Requirements: All Add-Ons require the latest version of AdSanity Core.
Ad Block Detection Settings Page
The configuration for this add-on are made on the AdSanity settings page. To access these settings, navigate to the AdSanity menu in the WordPress dashboard, and click on the Settings submenu item. When you arrive at the General Settings page for AdSanity, you'll see tabs across the top of the page. Click on the "Add-Ons" tab to configure your add-on. Depending on which AdSanity add-ons you have activated, you may see the names of them under the tabs when you arrive at the Add-ons settings page. Clicking on the "Ad Block Detection" link will take you to the Ad Block Detection settings.
This setting allows you to choose which types of content will trigger the warning message. The default will be for the Entire Site to show the warning if an ad blocker is detected. Clicking on the field will show you the available condition options. Selecting one of these options can limit the ad block detection to specific areas of your site using Conditional Tags. You can find more details about Conditional Tags on the WordPress site. To remove a condition, simply click the "x" next to the post type.
You have two ways to address visitors with an active ad blocker. The first is to display a Warning Modal. This option will display a message in a modal. The second option is to redirect the visitor to a specific page on your site. Depending on your selection here, you'll have a couple more related options.
When choosing to display a modal, you'll have the ability to craft a message that will explain your need for ads to generate revenue so that you can continue to create great content. Additionally, you can change the text of the button that will be displayed underneath your message.
When choosing to redirect visitors with an active ad blocker to another page on your site, you'll first choose which page to redirect them to. Next, you'll enter the desired text that you'd like the visitor to click on to take them back to the previous page once they've disabled their ad blocker.
The final setting is to determine how rigid you want to be about your request to your visitors. We have two modes to choose from. By default, the add-on is set to "Mandatory" mode. In Mandatory mode, a user will be required to disable their ad blocker before being able to read your content without being interrupted. If the user does not turn off their ad blocker, they will continue to see warnings with every request to your site. The second mode is "Warning" mode. When you select this mode, a user will see your warning and then be able to dismiss it for a number of days. The number of days is configurable in the field that appears when selecting this mode.
Once you're done making changes to your settings, click the Save Changes button at the bottom.
Didn't find what you were looking for?
If you're a subscriber to AdSanity and don't find an answer to your specific question please submit a request and our support department will address your issue quickly.